HOW TO GET STARTED WITH AFFILIATE MARKETING FOR BEGINNERS
First, you have to find a company or product that you want to promote. You need to select a product or service that you believe will be relevant to your blog's topic or social media followers and useful for your audience.
Next, you have to partner up with the company by joining their partner program. This makes you their 'Affiliate'. Some companies also use the terms associates, partners, etc. Once you have joined their partner program (also called Affiliate Program), you will get a unique affiliate ID. You will need to use this affiliate ID in all affiliate links that you add in your website or social media pages to promote the product.
You can promote the product by adding an in-depth product reviews, recommend it in your articles, display banner ads, sending an email newsletter, and more. All traffic you send to the retailer website with your unique ID will be tracked.
Once a user makes a purchase, you will earn a commission. Your payment is issued once your earnings reach a particular threshold typically 45 – 60 days
Finding Affiliate Products and Services to Promote
There are many ways to find products and companies that you can partner up with as an affiliate. Here are some of the easiest ways to find the products you can promote to earn you some good money.
1. Become an affiliate for products you already use
First, you need to look at the products and services that you already use and find useful to yourself. This makes it easy for you to convince your users about the product since you already know how helpful it is.
Next, you need to go to the product's website and search for terms like 'Affiliate program', 'Partners', or 'Affiliates'. Many companies are actively looking for affiliate marketers to promote their products that's why they add a link to their affiliate page in their website's footer.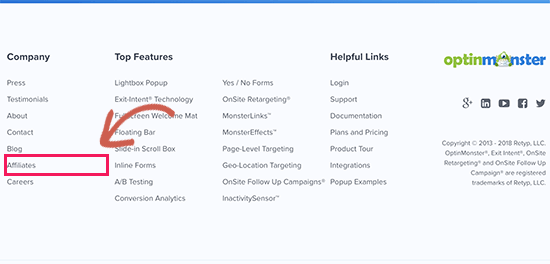 2. Look for products other blogs are recommending
Another way to find products is by looking at other blogs similar to yours. You will be able to find many similar blogs that are using affiliate marketing to make money.
But how do you know that they are promoting affiliate products?
First, look for the obvious and easily noticeable banner ads on their website. Take your mouse to the banner ad, and you will see a link in your browser's status bar.
This link will usually have an affiliate ID. Affiliate ID helps sellers track which affiliate partner is sending them traffic / sales.
3. Join Bigger Affiliate Networks
Another way to find products to promote is by joining affiliate networks. These websites act as a middleman between affiliate marketers and online retailers.
You will notice that many products and companies that you want to partner with already use an affiliate network. This helps you quickly find a lot of products that you can start promoting on your website. CLICK HERE TO READ MORE http://what-affiliate-program-work
.
Please follow and like us: